Knite: Chapter Two
is the second chapter of
Wenqing Yan
's
webcomic
Knite
.
[1]
This chapter of the comic was originally published online on the art website deviantART on January 20, 2010.[2] When 4th Dimension Entertainment picked the comic up in 2011, the company announced that chapter one and the next few consecutive chapters would eventually be compiled into a volume of comics. The original is still available online for free, and as per will of the publisher and creator it will stay that way even after publication.[3][4]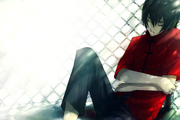 Chapter two begins depicting
Sen
sleeping outdoors, next to the release point of all his kites and
Kai
wakes him upon, convincing him to go to school. Reluctantly giving up, Sen and Kai go to school, to the surprise and joy of fellow
Knite
member
Ling
, who is also class rep. Sen discovers that Ling was the one to reveal Sen's whereabouts.
[1]
Kai asks how Sen formed the Knites, and Ling explains how Fei and she got their friends to help Sen one day, after seeing what Sen's purpose was and tracking him down, as well as developing the name. After class, Sen asks Kai how he got Ling to tell him of his whereabouts. Kai replies by saying he'd promised Ling he'd bring him back to school. The chapter ends with Sen looking out the window.
[1]
References
Edit